Chris Gayle Opens New Innings With Adda52 as Official Brand Ambassador
Chris Gayle Official Brand Ambassador
The "Universal Boss" Chris Gayle has been roped in as the brand ambassador of Adda52 - India's leading online gaming website.
Christopher Henry Gayle -also popularly known as Chris Gayle- is regarded as one of the coolest and most stylish cricketers in the world. He is popular for his extraordinary batting skills and larger-than-life attitude both on and off the cricket field. After conquering the world of cricket, this dashing player is now all set to test his skills on the poker tables.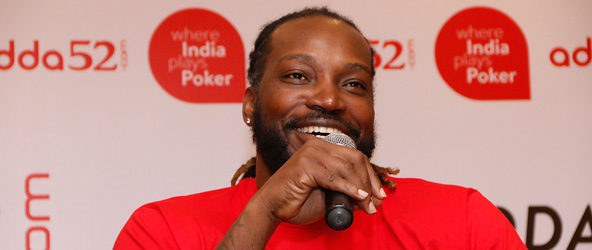 On August 3rd, Adda52 Founders Mr. Anuj Gupta and Mr. Mohit Agarwal officially named Gayle as the brand ambassador of Adda52.
"We are excited to have Chris as our brand ambassador as this will go a long way in improving the awareness of the game in the country. This will also help the audience relate more with poker as a skill-based yet fun game at the same time. We are the poker pioneers in India and look forward to many more users on Adda52's award winning platform" Mr. Mohit Agarwal said, "All the ingredients of explosive growth in gaming are present in the country - be it the demographics, the internet penetration or the smartphone penetration. The digital payment infrastructure in the country is superb. Once the advertising framework for real money gaming matures, the business should see significant growth."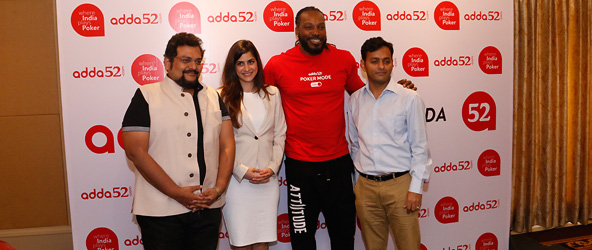 The charisma flamboyant style, energy, passion, and enthusiasm of this star batsman from West Indies make him an ideal personality to represent and promote the brand on national and global level.
The aim of Adda52 is to provide an "international standard" online gaming experience to Indian poker players. The website has set benchmarks and unbeatable records in the Indian gaming industry in a very short span of time. The superstar cricketer is really excited about his association with Adda52. Speaking on the occasion, this explosive player said, "I love playing poker and I'm really glad to be associated with Adda52! It's amazing to see the growing passion for the game in India and I would love to be a part of this journey."
Gayle is no stranger to this ultimate game of skills. He loves poker as much as he loves to hit sixes. Before being appointed as the brand ambassador of Adda2, Chris Gayle participated in Super High Roller DPT Colossus - a highly successful live poker tournament happened at Deltin Royale, Goa in April this year.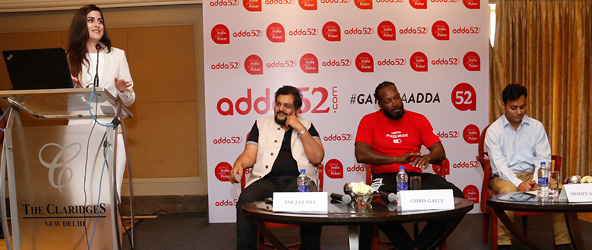 For his fans all over the world, Gayle is more than just a cricketer. The unique ability to appeal universally, cool and fun-loving nature, and positive attitude of this Caribbean player resonates well with India's most popular online poker brand and its vision. Other than promoting Adda52's major campaigns and high-value tournaments, Gayle will also endorse Adda52's online fantasy sports platform - LeagueAdda.
Commenting on appointing Chris Gayle as the brand ambassador, Adda52's Poker Pro and India's only female WSOP bracelet winner Nikita Luther said "Many people in the country are quite passionate about poker. Chris's association with Adda52 will improve the awareness about the game and I am very excited about it".